The biggest project in the office so far was surprisingly the shelves that were placed behind the desk.  I say surprisingly because I didn't actually build the shelves as I had intended, so I thought this was going to be much easier.  I wanted to mimic the chunky, floating shelves that I built at our old house in the laundry room (oh, how I miss that little space).
My plan was to build a less chunky version of these shelves that spanned the entire wall behind my desk.
But then budgets and time got in the way.  This wall is a 12′ long wall and if we wanted to do three floating shelves, that was going to cost a pretty penny.  A pretty penny that needed to go elsewhere in this room.
I started looking at lumber and while I was not worried about being able to find the length that we needed, it was more the thickness that made me re-plan this whole portion of the project.  My worry was would a long 1″ thick board sag over time?  The weight would be practically nothing but then add books and decorative items on there and I was worried I was setting this up for failure.  As we were walking the aisles at the store we ran into 12′ boards at 2″ thick (which are not a true 2″, in case you did not know).  They had the chunk I was looking for and saved me the time and extra cost of building them out.  Sold!
These boards are MUCH heavier than the 1″ thick board, so I needed to figure out the hanging to the wall process.  It wasn't going to be as easy as throwing up some brackets and calling it a day (or maybe it is and I over complicated it).  I REALLY REALLY wanted brackets like this: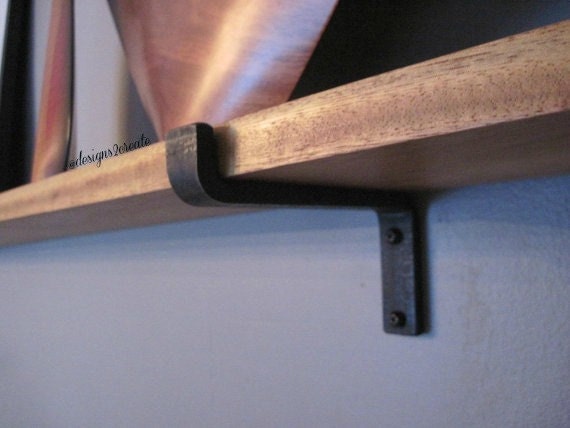 But the price, well it hurt.  It hurt a lot for what we needed.  The ones in the picture are much smaller than what I needed but we were looking at over $30 for each bracket.  I looked around the internets and found some ways to DIY my very own brackets, but as I was standing in front of the materials, my confidence to create sturdy brackets dissipated quickly.
I settled and ended up using these.  Well actually, I wish I had used those.  I used ones were 12″ long and as I mentioned before, boards are not their true listed size.  The 12″ ended up being too long, so I had to create a slight gap between the wall and shelf to make sure it overhung the bracket
While hemming and hawing over being slightly butthurt over the bracket choice, I picked a color for the wall behind the shelves.  We went with Sherwin Williams Restorative.  But, to my frustration, you cannot find that color on their website.  It was purchased at Lowe's and it is almost as if it does not exist.  Either way, you can see it here.
When it was time to start hanging the brackets, I turned to trusty painters tape to show me where the studs were and what our shelves would look like.  With the potential weight of these shelves, we needed as many studs as possible.  We ended up with four studs and one center free floater (which meant anchors).
The laser level was my best friend through this whole process.  I measured, remeasured, leveled, releveled, checked the level line with an actual level.  Precision is key here.
After a somewhat seamless first row installation, I moved on to the second row.
The second row was a little more frustrating because of whatever is going on behind the wall and getting screws to go fully into the stud, but it went up.
The third row, well that was a sonofacrapper.  After all of my measuring and leveling, I pre-drilled my holes so I could easily get the brackets up.  Apparently one of my measurements was off by a smidge and it threw three brackets off and it looked terribly stupid.  They were not in line with the brackets below.  Of course, that also included the bracket in the center with anchors.  #headslam
I am not kidding when I tell you I went through THREE types of anchors to work in this stubborn hole!  Either they broke or just sucked (being honest).  And that lovely GIANT hole on top, even your basic putty could not fix it.  I had to break out the joint compound to fix that hole.  You guys, that is the standard!  It fixed the giant hole and did not implode when I had to redrill into part of it like the putty did.
Officially, I would like to take shelf hanging OFF my resume after this.  It was so frustrating.  BUT the shelves are up and look quite nice.
As I was hanging the shelves, the screws that I was using were a blinding silver and the brackets were black.  It was like wearing white socks with black shoes.  I grabbed some acrylic paint I had and painted over the tops of the screws and unless you are standing with your nose against the wall, you can't tell.
As for the shelves, I slapped on a layer of pre-conditioner (NECESSARY) and two coats of Minwax Espresso.
Once we got the last shelf up (which is a total team lift item and you should NOT do this alone), they actually looked decent.  
I feel like I went a little overkill with the brackets, but as I am styling the shelves, they can be hidden.
Up next: upgrading those boring stock cabinets you can buy at a big box home improvement store!